Over one hundred years of experience
The HOCHDORF Group was founded in 1895 as an export company. Our key areas of expertise involve gently concentrating and drying milk. We have acquired global recognition for our expertise over generations.
Our production processes use the very latest technologies, reliable process techniques and dependable quality management. These are ideal conditions for producing high-quality milk derivatives that are subsequently used for further processing in the food industry.
Our experience is reflected in the wide range of products that we offer. We are happy to provide you with support and advice.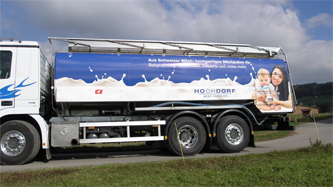 Milk procurement
We are the fourth largest milk purchaser in Switzerland and process around 300 million kilogrammes of the best Swiss milk annually. This is approximately 10 per cent of the domestic milk total. Read more
Contact
Do you have any questions about using milk powder? Do you require a special product quality or information about how to use our products? Do not hesitate to contact us. Our team is happy to help with advice. Read more