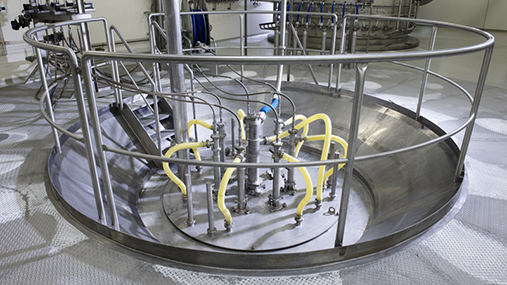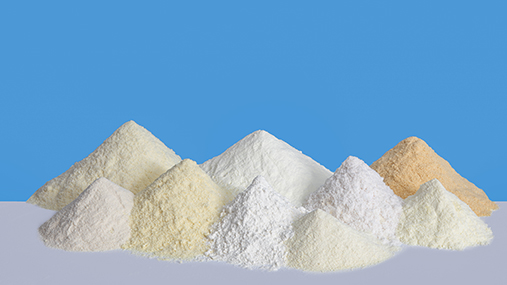 HOCHDORF looks back on years of experience in spray technology. Milk was dried in the first spray tower in Central Switzerland as far back as 1913. Today, our ultra-modern new production facilities in Sulgen and Hochdorf put us at the cutting edge of technology for drying non-dairy products and other specialities, as well as milk. On the 6 towers and 5 rollers located between our two sites, we spray complex high-fat products and other products to the highest baby food quality standards.
Technology portfolio
Spray drying with and without agglomeration (incl. ultrafiltration, demineralisation, crystallisation)
Roller drying
Mixing and filling
Types of packaging
We offer our customers various packaging options for the products and ingredients we produce:
Silos
Big bags
Bagged goods
Pouches or bag-in-box systems
Cans
Applications
We provide the perfect solutions for milk-based and other specialist products for different areas of application.
Dairy products
Chocolate industry
Confectionery
Bakery goods
Ice cream industry
Convenience products
Dietary Foods
Lifestyle and sport products
Services
We offer a customised, premium quality service to make your vision a reality. You can count on our Swiss values, evident in our reliability, quality awareness and innovative spirit. As your "Best Partner" we also offer a complete service from consulting to implementation.
We produce our quality products in accordance with the most stringent requirements. In-process controls and our state-of-the-art, in-house laboratories guarantee the highest possible degrees of safety. Our plants are all certified in accordance with FSSC 22000. Other labels such as organic, Suisse Garantie, kosher, halal and RSPO are available on request.
Our services include
Dialogue to find solutions and incorporate our know-how
Trials in our pilot plant
Production scaling
For further information on our technologies and applications please contact
Christian Fanger
VP Marketing & Sales Food Solutions
E-Mail: christian.fanger@hochdorf.com
Tel.: +41 41 914 65 68